Italy: Planning Your Trip to Padre Pio's Mountain
As mentioned in my previous post, I made a promise to visit Padre Pio's beloved San Giovanni Rotondo to thank him for his countless intercessions on my behalf. And so I did…from September 5-9, 2009, with my wonderful hubby (a.k.a. financier) in tow. Hihihi!
I am writing this post to share with all of you who want to go there on your own, without having to sign up for a whole pilgrimage tour across Europe. Please know that we worked on a very limited budget when we took this tour…so you can rest assured that we took pains to economize. I hope that I will be able to help you get the most out of your visit to San Giovanni Rotondo through our experience.
HOW TO GET TO SAN GIOVANNI ROTONDO
When we took this trip, our point of origin is Paris; but no matter where you are coming from in the world, the nearest airport to San Giovanni Rotondo is the Bari "Karol Wojtyla" International Airport (Aeroporto di Bari in Italian). We took a Lufthansa flight to go there, which lasted approximately 5 hours because we had to catch a connecting flight in Milan.
Upon reaching the Aeroporto di Bari, you are only 2 hours away from San Giovanni Rotondo! Yey! You have three options to get there:
One: Rent a Car
This is the most convenient mode, I think. There are so many rent-a-car kiosks inside the Aeroporto di Bari that you simply couldn't miss them! We rented a car from Avis which costs us 52 euros a day, GPS included (38 for the car + 14 for the GPS). Please, please, while the GPS is optional, please don't ever travel without it! The little streets in Italy have no labels! Unbelievable, but true. The GPS has saved us a lot of time and made it easier for us to plan our trips.
To be able to rent a car, you need a valid ID, a credit card, and an address. And more importantly, you need a license! Don't forget to bring your driver's license from your home country. My husband also applied for an international driver's license via the Automobile Association Philippines and he paid 1800 pesos for it. Of course, AAP only caters to those with Philippine driving licenses.
Having a car at our disposal was really convenient because we were also able to visit other points of interests near San Giovanni Rotondo such as the Sanctuary of St. Michael the Archangel and the Molfetta Outlet.
Two: Take the Taxi
If you don't want to drive, you can always take a taxi from the airport. There are kiosks inside the airport for taxis and they do speak English. However, this will easily cost you approximately 120 euros just for the one way trip going to San Giovanni Rotondo. How you will get back to the airport after your tour is another story, and yes…another expense.
Three: Take the Train and the Bus
If you know a little Italian, I think you can take the train and the bus going to San Giovanni Rotondo. First, you need to catch a train from Bari to Foggia, which will approximately take 1.5 hours. Then, you can take the SITA Bus from Foggia to San Giovanni Rotondo, which takes a little over 40 minutes. I apologize for not being able to give more directions on how to get to the train station at Bari and the bus station at Foggia since I have no first hand experience in taking the public transport in Italy.
WHERE TO STAY IN SAN GIOVANNI ROTONDO
There are a lot of hotels in San Giovanni Rotondo In fact, we were surprised to see high-rise buildings there because we initially thought that we were going to a remote place. But since we went there to visit the Padre and not to have a grand vacation, we opted for a modest 2-star hotel — Hotel Immagine (yup, it's really spelled like that). If you're not going to spend a lot of time in your room, then this bed and breakfast hotel is good enough. Our room is clean, has hot shower, a ceiling fan, and a tv. As with most hotels in San Giovanni, it has no air-conditioner because it's already quite cold up there. They provided us with clean towels everyday, but since we brought our own, we didn't use them.  They also thoughtfully gave us some toiletries — two small bottles of shampoo, soap, and toilet papers. They also served us simple breakfast of assorted biscuits and pastries with the beverage of our choice. This was already included in our payment. They also have a vendo machine inside the hotel if you suddenly feel hungry in the dead of the night…like me! They do have free parking, too, for those who brought their own cars. My only complaint is that they do not have a hair dryer, so please remember to bring your own.You can find their rates here and you can make online reservations with them, too.
WHERE TO EAT IN SAN GIOVANNI ROTONDO
Most of the hotels we saw have their own restaurants. Why not? They already have a captured market! At first, we went to these restaurants to eat, but we soon realized that the food is not that good…so we went looking for real restaurants. We can recommend two restaurants which we found really good…and they are both near Padre Pio's church!
So, what can you expect from the menu? Hmnnn…coming from Paris where everybody eats so little, I was shocked to see that the "Menu Turistico" in san Giovanni Rotondo, which goes for goes for 15-18 euros, is quite heavy! This is what they usually have:
heavy appetizer (antipasti) — usually thinly sliced raw ham with mozzarella cheese

first main course (primi piatti) — usually pasta

second main course (secondi piatti) — a choice of beef, chicken, or fish,

side dish (contorni) — usually either salad or fries

drink (bevande) — water, soda, or juice
But if you're a light eater like me, I just order pasta and drinks, since they give free bread anyway. This just costs me around 8 euros. And you should see their pasta serving! It can feed 2 people! Well, I don't know…the Italians seem to finish theirs awfully fast. Hehehe!
Oh, here are the two restaurants that we feel are worth your euros. Unfortunately, they don't have web sites. Sigh.
One: I Santi Gelateria e Pasticceria (Via Forgione 10, San Giovanni Rotondo 71013)
Two: La Cialda Bar (right across I Santi Gelateria e Paticceria)
The La Cialda Bar is actually our favorite. They have great pasta and pizza…and what's more, their menu prices are quite cheap. Try their spaghetti bolognese, as well as their pizza with spicy salami. Yum! :)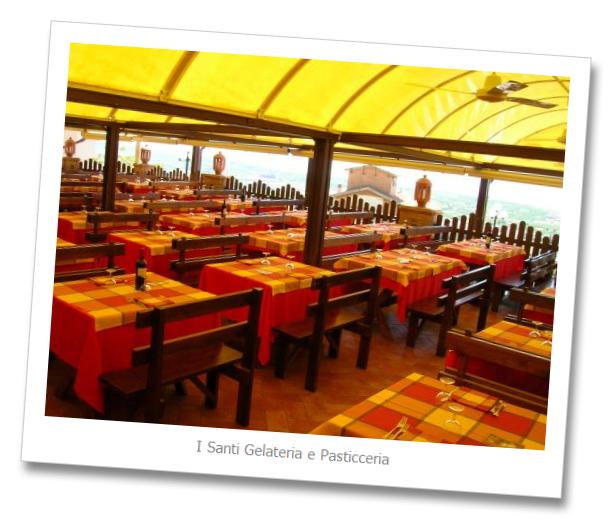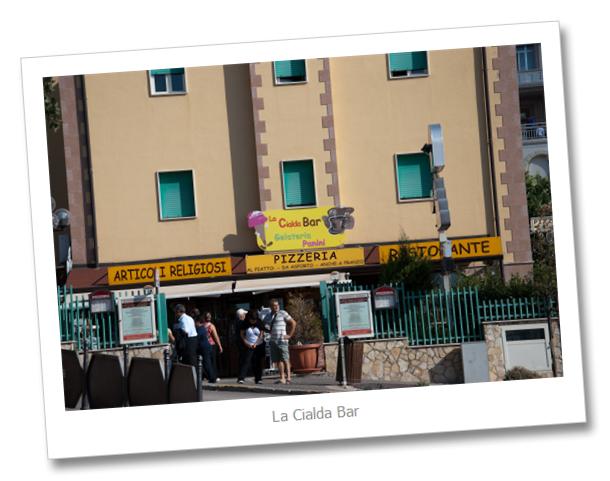 Ok, now that you are properly settled in Padre Pio's mountain, please click here to read about the Padre Pio Places that you should not miss visiting!
Posted: September 19th, 2009 under Italy.
Comments: 3
Comments