Fireworks Display at the Eiffel Tower!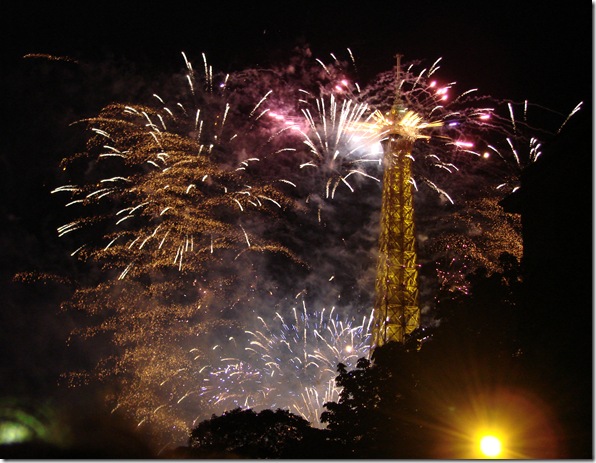 I remember being misinformed about two years ago…someone said that there will be fireworks at the Eiffel Tower on New Year's Eve…and so, my hubby and I braved the winter chill and camped near the beloved tower in anticipation of the fireworks display. Unfortunately, there was none. Hehe. But we weren't too disappointed, though, because dear Eiffel was decked with a million lights that blinked to the tune of Auld Lang Syne (if my memory serves me right) at the stroke of midnight! It was definitely one of the most memorable New Year celebrations of my life. :)
So, when I saw the poster all around Paris that there will be a fireworks display at the Eiffel Tower on July 14, I thought to myself that this must be the real thing! I hurried home and scanned the Internet for info on what occassion do we owe these festivities…and viola, found it — Bastille Day! Apparently, we are are commemorating the 220th anniversary of the storming of the Bastille fortress in Paris by revolutionaries in 1789. This event, they say, was the symbolic starting point of the movement that led to the first French Republic. At the same time, we are also celebrating the 120th anniversary of the Eiffel Tower. I heard that they had a concert at the foot of the tower, courtesy of the French rock icon Johnny Hallyday, but I wasn't able to go and take a peek. Sigh. I am overly curious how a French rockstar looks like as I cannot imagine a loud Frenchman…it just disturbs my senses. The French seem so proper and formal to me…my brain just cannot associate rock and roll with French. Hehe. :)
But then, I was able to watch the fireworks which started at 10:45pm up to around 11:15pm! My most awaited event! You cannot imagine the sheer effort to get to the Eiffel Tower on time. I am thankful for the French police who were in full force that night. They made sure that there was no stampede in the metro (train) station…which can really happen, mind you. There was a really big crowd waiting for the train, and it was really packed in there. Here is a picture of what the crowd looked like outside the metro station: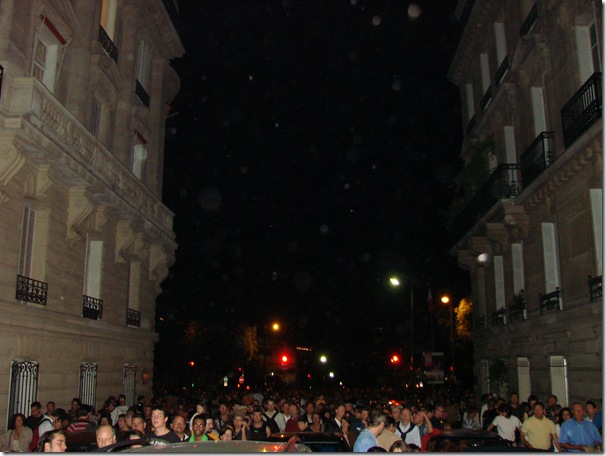 When we finally got into a train, I can hardly breathe inside, literally. I am quite tall for a Filipina, standing 5′ 5″, but everyone here in Paris is taller than me. Consequently, I had like a dozen or so armpits almost pressed to my face! They were armpits of people of every color…so you can imagine that the smell has an international flair, too! Hihihi! It wasn't such an ideal situation for a pregnant woman like me who happens to have an overly sensitive sense of smell. But everything went well for me and the baby — no dizziness, no puking, no fainting spells. Life is good. We are excited for the fireworks! :)
We finally got off at the Trocadero station and I thought that everything will be a breeze since we are going to a wide open space. I thought I can sit down on one of the benches in front of the Eiffel Tower and watch the fireworks to my heart's content — just like when I go there to eat my crepe. But when it took us 15 minutes to get out of the metro station due to the sea of people outside, I was sure that I will be pushed and shoved. How do you say, "Please don't push me; I am pregnant" again in French? Oh never mind, nobody will care. And so I rode the wave of people, a little push and shove here and there, with a dozen or so "pardon" escaping my lips. Ah, finally, we all stopped moving as the Eiffel Tower's lights were turned off — the fireworks have started!
For a good 30 minutes, I ooohed and aaaahed along with the millions of people from all over the world who came to watch. There were 6 sets of fireworks displays, lasting 5 minutes each. The general color of the fireworks were white, blue, and red — France's colors. It was just amazing! There are no words for me to describe how beautiful the fireworks were that night, and so I am posting the raw video that my hubby took. Please excuse the shaky coverage…as he was being pushed here and there by latecomers who wanted a good view. We weren't able to go in front of the tower…it was simply impossible…so this shot was from the left side of the Eiffel Tower. Some parts are pretty boring since your cannot see the Eiffel Tower (this was our camera's fault, actually)…but be patient because when the tower lights up, things get pretty exciting (around 8 minutes and 30 seconds into the video). I think that our video coverage does not do justice to the fireworks display…but then again, I just want to share it to those who are curious to see how it went.
I pray that someday, all of you will get to see the fireworks at the Eiffel Tower live! See you in Paris!
Posted: July 19th, 2009 under Paris.
Comments: none