Let's Play: Games of the Generals
When I was I kid I got hold of this board game named Games of the Generals. Being a curious kid, I wanted to play it but I was too young to understand how it's played. Fast forward a few years and I eventually found someone to teach me how to play it. The only catch with playing this board game is the fact that you need an arbiter each time you play, and this is a bit of a drag because it's hard to find someone who would act as a referee.
A couple of years back, I got bored in the office and ended up thinking of the Games of the Generals board game. I realized how much I missed playing it so I ended up creating a computer-based version of the game just for the heck of it. I made two versions, one with the original-sized pieces and another one for "office" play. :wink:
Here are some screenshots of the game, as well as a copy which you could enjoy. – Mike Sumulong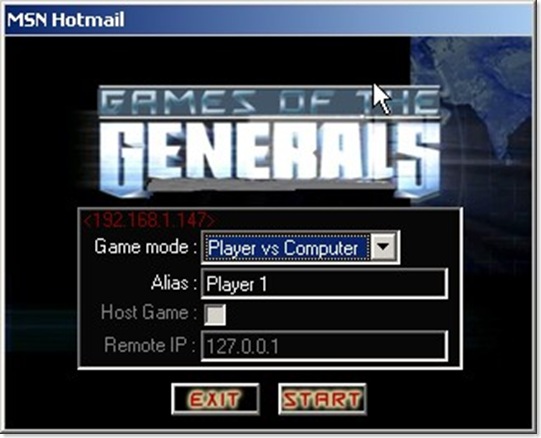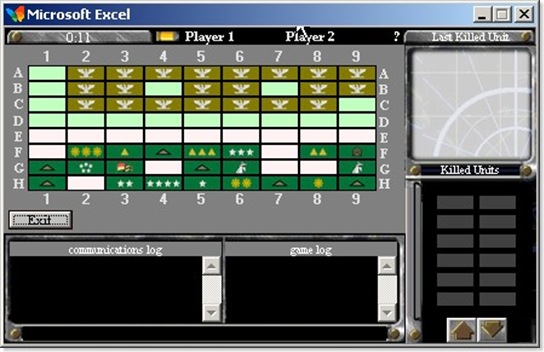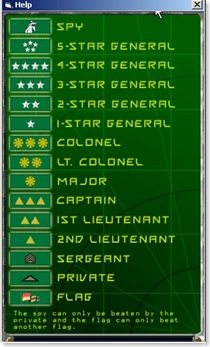 The objective of the game is to capture the flag. The pieces listed above are ranked in order of superiority. A higher ranking piece captures a lower ranking one. This holds true for all pieces except for the Spy which can only be beaten by a Private.
You could get a copy of the mini-version of the Games of the Generals here.
PS: The AI for single-play is just random moves. I suggest you use it for multiplayer games over the network. Maybe someday I'd get bored again and give the AI a boost.
Posted: May 11th, 2008 under Let's Play.
Comments: 58
Comments
Comment from michael
Time: August 8, 2008, 6:56 am
Hi Dan,
It can only be used in a Windows environment and it requires a MSWINSCK.OCX component which you could download over the net if you don't have it installed.
Enjoy the game!
Comment from michael
Time: August 8, 2008, 7:10 pm
Hi Neil,
I'll try and rummage through my old files and see if I still have it there somewhere.
I'm glad you liked it!
Comment from michael
Time: July 14, 2009, 4:33 pm
Hi Len,
It was made using VB6 a long time ago. :)) As for the one-player, I wasn't able to build a decent AI because I only did this during my free time at work when I got bored. I wanted to improve it but I got so busy that it just got stuck the way it was.
What language are you using for your GG?
Comment from michael
Time: July 17, 2009, 1:15 am
@Len – Do you need it to be intelligent enough to beat you? I only planned to use the app to play with my friends and I didn't have time to build a decent AI so what I did was to have multiple layouts of the pieces that I usually use when I play. Afterwards, the AI just picks a random move when the game starts.
If you want a decent AI, then I think you need to make a set of rules first on what moves to make and what the priorities between each move.
Ex.
If Five-Star General was beaten, and AI has a private beside it, use it against the opposing piece because it means that the one that beat the Five-Star General was a spy.
By doing this, I think you'd eat up most of you time just by thinking about all possible moves! :D Maybe it's best that you put something in your scope & limitations regarding this part. Or else you might end up being grilled about the AI being dumb! ;)
Good luck! :)
Comment from michael
Time: May 17, 2010, 1:58 pm
I tried to look for it but I was unsuccessful. Need to find time to organize my old files. :)
Comment from michael
Time: May 26, 2010, 11:07 pm
Originally Posted By Tes Pasola
Michael, I believe this game is called "Game (w/o S) of the Generals".
you're right! :)
I made this electronic version one lazy day to keep me company. problem I can't find my source code and all I have is this small version and I can't edit it anymore.
Comment from michael
Time: May 26, 2010, 11:13 pm
Originally Posted By Chester
hi..can i also download your game? if yes, how?
the link is in the post… just right-click on it or you can left-click it and then select "save link as"
Comment from michael
Time: July 9, 2010, 12:08 pm
this version is playable over LAN
Comment from monette
Time: October 10, 2010, 11:55 am
hi claire, my husband was the one who coded this…i will ask him to contact you directly.
Comment from michael
Time: December 8, 2010, 12:13 pm
I used VB6 to code this
Comment from michael
Time: December 30, 2010, 3:44 pm
Hi Paul,
I am not sure if they still sell these in the Philippines. I remember seeing one in National Bookstore (I think), but this was maybe 5 to 10 years ago. :)
Comment from michael
Time: January 5, 2012, 6:47 pm
Yes you can
Comment from michael
Time: July 9, 2012, 3:53 pm
Please try extracting the file to a folder first and then try running it from there.
I haven't updated this for a while now so I'm not sure how it works on Win7.