Recipe: Pesto pasta Alla Genovese
I go to Cibo for my favorite comfort food…farfalle alla genovese. Cibo is owned by renowned chef Margarita Fores, who also by the way owns Adora, and has brought exquisite Italian cuisine to the Philippines. I wish I can ask Margarita for the recipe of her farfalle genovese, but since I can't, I just searched the Internet for a quick recipe for this dish. I was surprised to have found quite a lot of ways to do it, and so I just combined the different recipes and came up with my own. :)
Ingredients:
4 tablespoons pesto genovese (you can add more if you like a strong pesto taste)
1/3 cup evaporated milk
1/4 cup all-purpose cream
1/3 cup water
2 shitake mushrooms
1 cup uncooked pasta noodles (whatever kind you like; I use penne)
a drizzle of olive oil (just enough to saute the mushroom)
a pinch of salt (I use sea salt)
Preparations:
Cut your mushrooms in thin slices, in the size you want

I just buy prepared pesto genovese in the grocery, but it is better if you can prepare it yourself. Here's how to make fresh pesto genovese by a rather quirky chef. Note that the video also includes how to use the pesto genovese in pasta…you may want to ignore that because it's overly simplified. Hehehe!
Cooking Instructions:
Cook your pasta noodles in a separate pan.
Heat olive oil in a pan and saute the shitake mushrooms for a minute. Add your pesto genovese, all purpose cream, evaporated milk. Stir until the mixture looks even, and then add water. Bring to a boil and add salt to taste.
Then, you can add in your cooked pasta…and you're done! You can put in some freshly ground pepper before you serve. And, don't forget the bread!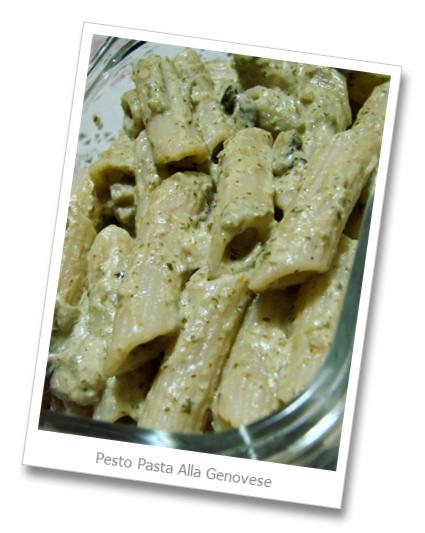 Posted: February 11th, 2009 under Recipes.
Comments: 4
Comments