Tony Perez : My Pinoy Dumbledore
I have been a Tony Perez fan for the past 10 years. He is the trainer and adviser of Spirit Questors, a group of people who help negotiate harmonious co-existence between humans and non-humans. They also help the departed settle their earthly issues and move on to the light. Sometimes, they even help the living, who were left behind by those who have departed, to move on with their lives. All these they do for free. Mr. Perez chronicled their experiences in his books — The Calling, The Departed, Beings, and Stories of the Moon…to name a few. And these are the books that has imparted in me life changing realizations, which I am truly grateful for.
Let's track back a little…I came to know Tony Perez and his books because I have gone through that phase in my life when I got all curious about elementals, souls, psychic powers, paranormal experiences, and the likes. I must admit that while I am a Christian, I haven't completely abandoned my interest for such.
Why?
Because it is a humbling experience.
Because it has taught me to acknowledge that we, human beings, are not the only inhabitants of this world; nor are we supreme than all the rest.
Because it always reminds me to respect and to show kindness towards nature, people, and everything in between.
Because it made me realize that the rules of the Divine encompass not only our plane, but others as well.
Because it liberated me from the stereotype that anything ugly or scary is evil.
Because it showed me that everyone, even non-humans, are capable of change.
Because it taught me that hurting others, including nature, is tantamount to hurting ourselves.
Because it has imparted in me that forgiveness transcends time and space.
And because, finally, I came to understand that love, indeed, is all that matters.
I wish I can expound more on my thoughts, but I think I will just bore you to death. So let's talk about something a little exciting…for me, at least…hihihi.
Last night, April 30, I went to Powerbooks in Robinson's Midtown to meet my favorite author,Tony Perez! Yey! I bought several of his books for my friends — Sir Jarvy and Sir Jun Jun. These friends of mine have strong psychic abilities but they both get so freaked out with it; thus, they have no intention of developing their abilities. I thought that Mr. Perez' books will help them understand and appreciate their gift, so I bought several for them. Of course, I also bought books for myself…hihihi!
I was so happy that Mr. Perez kindly signed the books I bought and even graciously had his picture taken with me! Yey! I was the only one, I think, who came prepared with camera and all…hihihi! And guess what?! When I asked him for our pictures to be taken, he even thoughtfully brought out his magic wand from his bag so it can be part of our picture! Truly, I am grateful to this man. My meeting him is a happy event in my life and will surely be one of my comfort thoughts. I think, it will not be an exaggeration to say that I had the best May Day Eve ever. (Wink!)
Here are my pictures with Mr. Tony Perez: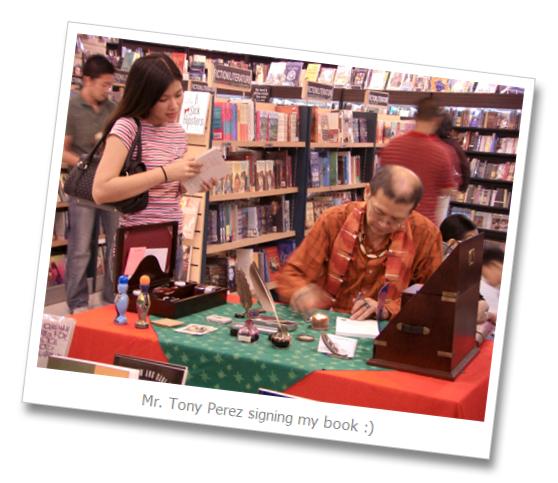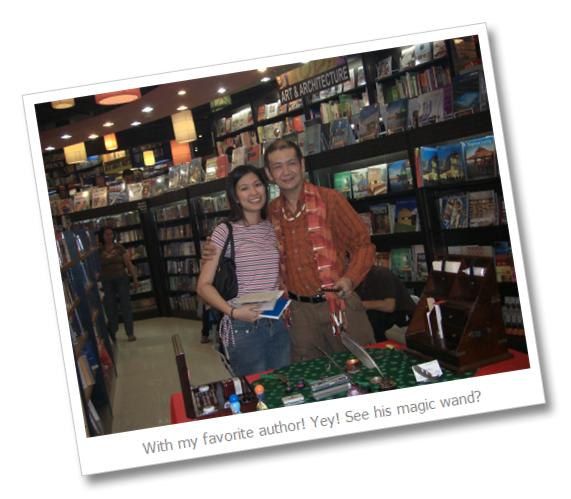 Should you want to request for the services of the Spirit Questors, you may get in touch with Mr. Bob Magno, their Director, at 0926-7012996. Please remember that they do not banish or exorcise spirits. They simply negotiate with them on your behalf. They stand by their principle that we need to deal with the spirit world with how we expect to be treated — with kindness and love.
Posted: May 1st, 2008 under Random Thoughts.
Comments: 2
Comments
Comment from monette
Time: May 3, 2008, 1:47 pm
hi!
uh-oh…i don't know when he will have his next book signing. but if i get any info, i'll have mike ym you about it. :)
funny, i haven't read any of his cubao series yet. will make it a point to read it soon.
thanks for dropping by, manny!