My Valentine Wish List
Paging my husband, Mike Sumulong…you have got to read this! :) :) :)
If you're not Mike, it's ok..go on and read. You will be amazed how much Valentine's Day helps our economy. And more importantly, I may be able to help you put together a nice Valentine date for the one your adore. :)
Wish 1: Experience a Dose of Culture
Wouldn't it be nice to do something different this year? I have been hearing about the Old Manila Walks for some time now, and I would definitely want to try it. The people behind Old Manila Walks will take you through the best of historic Manila by foot. You can choose from any of their five available tours, namely: Intramuros, Chinatown, San Miguel, Chinese Cemetery, and FEU. For those who are undecided, their Halo-Halo tour might be the best one for you.
Wish 2: Dine in a Pre-war Mansion
No, this is not because of my love affair with ghosts inhabiting old mansions and castles. This is more of my wanting to experience how the rich Filipinos circa 1930's dine and wine. What better place to experience this but at the well-preserved Legarda mansion at San Rafael Street in Manila. At La Cocina de Tita Moning, you can partake of the Legarda heirloom recipes using the family's antique china, glassware, and silverware. You will also be given a tour of the whole mansion afterwards. I especially like them because they operate by reservations only, which means that I don't have to wait long to be seated. More importantly, they do prepare special meals for those with diet restrictions like me and your grandparents. Hehe.
Wish 3: Shop and Dine in Opulence
Now, this one, is because of my immense love for malls. There's this buzz about Adora, a department store tucked away at Greenbelt 5 Makati, which has its own cafe. It does not only boast of housing world-renowned brands, but also has opulent interiors to match. It is strategically located, too…like a secret cove where you can take your secret date. Hihihi. The food selection aren't bad, too. But I think I'd rather go there for dessert and wind down with a good conversation.
Wish 4: End the Day in My Favorite Restaurant of All Times
I cannot imagine ending this day anywhere else but in Vieux Chalet, of course! My favorite restaurant in the heart of Antipolo City does not only give you gastronomic dishes, but one of the best views of Manila. Perched on top of a hill, you have Manila skyline as your backdrop when dining at Vieux Chalet. And have I mentioned that their Lamb Shoulder with Cafe du Paris sauce is to die for?! If you're unsure of what you want to order, you might be better off ordering their Special Valentine Meal for Two: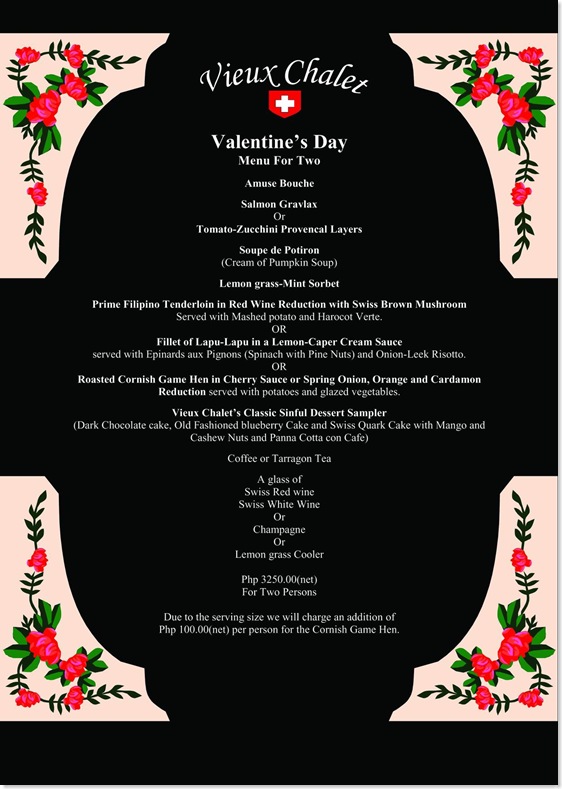 So there, that's it for me! Now I cross my fingers and wait. Hihihi. :)
How about you…how would you like to celebrate Valentine's Day this year?
Posted: January 31st, 2009 under Random Thoughts.
Comments: none