Easter Bunny Overdose
This is a little bit late, I know…but I just can't bring myself to write about Easter Bunnies when I overdosed on them last weekend.
I was innocently taking my walk on my usual route and I realized that the chocolatiers of Paris all came up with their own versions of Easter Bunnies. They were all provocatively displayed in their stores and I must have seen a thousand chocolate bunnies staring at me on my way to the grocery. To be honest, I almost went inside one shop which sells Lindt Easter Bunnies. But my, I will be the tallest one in there! Out of delicadeza, I opted not to go inside and just leave the chocolates to the kids. Sigh. It sucks to be an adult.
But as I am writing this…I now wish I did get myself one of those Lindt Easter Bunny chocolates! But at least I can keep this picture / advertisement as a testimony of how life sucks when you get past 13…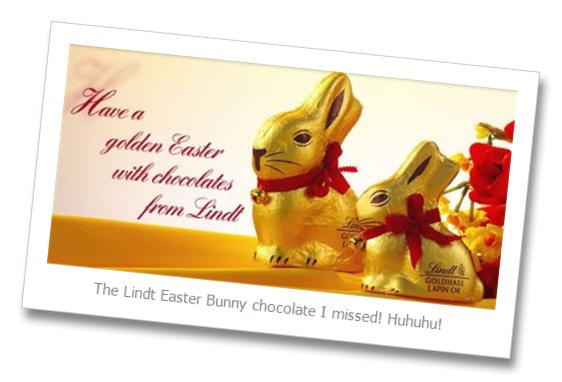 Posted: April 15th, 2009 under Random Thoughts.
Comments: none