Baby Names
Since I blogged about the names I thought for the little cherry that's growing in my tummy, I have received countless inquiries on where I got those names. I didn't know that people would actually be interested…hehe. You people are incredible! I love you!
Ok…let me see. How did I ever come up with those names?
The letter "M" is probably a no brainer…my name's Monette and my hubby's name is Michael…so naturally, I want my kid's name to start with the same letter. Hehe. Easy, right? :)
If it's a boy: MATHIEU LYLE
Mathieu is a French name that means "gift from God". I just thought I'd use a French influence on my kid's name in honor of the government that is paying for my entire pregnancy expenses. Hahaha! And more importantly, if you have read my blog on how I actually got pregnant, you would agree that this baby is literally a gift from God.
Lyle, on the other hand, means "island". I love how the name Lyle rolls in my tongue…I must admit that I actually chose this name even before I actually knew what it meant.
If it's a girl: MAGGIE LAVERGNE
Maggie was taken from a Rod Stewart song that I really like when I was young. Back then, my grandparents have a phonograph player at home. I'm not sure if this is the same as a turntable player…is it? I just remember that it plays this giant black disk and it looks somewhat like this: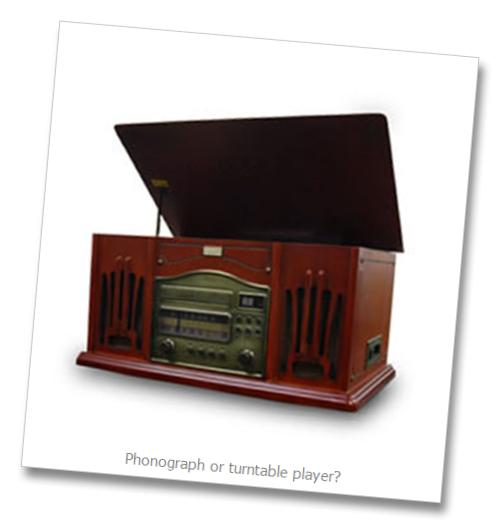 I remember that we had a lot of Beatles albums, Carpenters, Elvis, Jackson Five, and…Rod Stewart! While everybody loved the Beatles albums the most, I heart Rod Stewart the most. There was this song there, "Maggie May", which I really liked!
I remember, too, not knowing how to operate that giant of a machine…and so one particularly boring night, I asked my lolo (grandpa) to play the Rod Stewart album for me. He did, and he even asked me to drink beer with him. I took one small sip and coughed uncontrollably! It tasted awful! He laughed as I turned red and drank water from the faucet. I was about 6 years old, I think. After I have recovered, we just sat together on the sofa and hummed together that Maggie May song. As we were listening, I wriggled my toes in time with the beat of the music and my lolo stuck a cigarette stick between my big toe and the toe next to it…and I continued to wriggle my toes, careful not to drop the cigarette stick. Mind you, my legs then were far too short to reach the floor when I'm sitting on the sofa, so up to this day, I wonder why I didn't get cramps while doing that! Hehe!
Growing up, I learned to love other Rod Stewart songs; but the Maggie May song remains to be my favorite. I remember my lolo when I hear that song and that particular night when I had my first beer. When you are 6 years old, you treasure fun times such as this…and I do…until now. It has become not only one of my comfort thoughts, but one of the happiest memories I have. My lolo has long since gone to heaven, but I still think about him every now and then. I thought I'd name my daughter "Maggie" in memory of my first beer buddy whom I terribly miss…my Lolo Piding. :)
Oh, here's that Maggie May song that never fails to cheer me up. My favorite is the mandolin solo towards the end. If I were to learn a musical instrument, I would love to learn how to play the mandolin! It's just so me. :)
Lavergne, is an old French name which means "born in spring" . I got pregnant during springtime…just when everything starts to bloom and trees get back their green leaves again. It's a really wonderful season and you should see Paris during springtime…it is simply beautiful! It is my hope that my daughter will always look forward to new beginnings and the promise of tomorrow, and more importantly, grow up to be a truly beautiful woman. :)
That is the story behind my baby names. Thanks for pressing me to write about this…at least when my kid grows up and asks me where I got his/her name, I can just email him/her the link to this blog post. Hehehe!
Posted: July 19th, 2009 under Random Thoughts.
Comments: 6
Comments