A New Chapter Begins
Today, of all days, is the best time to blog. Why? Because my "all-day sickness" has temporarily left me. It must be the baby back ribs I ate for dinner. :)
Oh let me share the good news: I AM PREGNANT! — for real! My family and friends can't believe it, and neither can I at first. My husband was actually in denial for a few weeks, he said that my supposedly hard tummy must be a combination of gas and poop! What a meanie! But when all the pregnancy test kits showed double lines, he quietly took a seat in a corner and stared at me like I'm some sort of an alien. Did I tell you that men can have the most horrible reactions at the momentous events of your life?! Oh, but he has been a sweetheart after he recovered from the shock…he now cooks my meals, does the laundry, does the ironing, prepares my fruits, etc. Hihihi! If there's anything I love about this phase in my life, it's my princess-mode. :)
As I am writing this, my baby is 8 weeks and 4 days old. I think he or she must be the size of a cherry now. My little cherry, apparently, likes Filipino food. I crave for palabok, chicharon, siopao, sisig, lugaw, and all other pinoy food that are not found here in baguette country! And my timing is incredible…it's either 2:00 in the morning, or when it's raining really hard. I tried to substitute these cravings with the wonderful french cuisine that are within my armslength, but for some weird reason, I find them repulsive now. My usual french cuisine favorites no longer appeal to my tastebuds and I started to think that they smell funny! Everything smells funny when you are pregnant…even my husband! :) I hope my love for french food will come back when I give birth…if not, they will probably revoke my visa! :)
There's a little story behind this pregnancy which I wanted to keep as a secret, but thought the better of it. To be honest, my husband and I are not really so bent on having a baby. We like the idea of having one, but with all the fertility issues that we are facing, we told ourselves that it's ok if we don't get to have one — we will just enjoy our lives together and tour the world, hehehe! We sort of agreed that we won't storm heaven for a baby…we will just sort of leave it up to the high heavens if they grant us the grace. Our prayers had been like this ever since, although I'm sure our family are praying more fervently for us to have a kid…hahaha! Then one day, I came across the story of Saint Catherine Laboure and was delighted that the chapel where Our Lady of the Miraculous Medal appeared is here in Paris! I went there and was mesmerized by the message of our Lady:
"Come to the foot of the altar, it is there that graces will be showered on all those who ask with confidence and fervor".
I don't actually know how to be sure that I am praying with confidence or with fervor…but I thought I will just go there anyway. It will be good to have someone to talk to, even if she's invisible, since I'm always alone at home and I'm almost forgetting how to talk! Hihihi.
So…I went there twice, hoping to be able to kneel on that altar, but every time I go there, they have some kind of an event going on and I cannot even get past the middle of the chapel. On my third visit, I was in luck! The chapel just opened and there were only 10 or so people inside. I went directly to the altar, kneeled, and told Our Lady a lot of things…and before I ended my prayer, I told her, almost just as an afterthought, that I am not sure if I have what it takes to be a mom (knowing that I can't cook, cleaning is not one of my strengths, and I hate any form of complication), but if she thinks that I will do well, I pray that she intercede on my behalf and ask God to grant me the gift of life. I distinctly remember this moment because it was the first time that I have earnestly and sincerely asked for a child.
After that day, I went on with my daily routine, half forgetting that I said that prayer. More than a month after that visit, I found myself holding a positive pregnancy test kit in the bathroom with all the blood draining from my face. Don't get me wrong…I am happy, but I was floored! My prayer was actually answered?! And I get to be a mom?! Oh la la…I must have some hidden cooking talents somewhere! Now, I've just got to find it! Hihihi!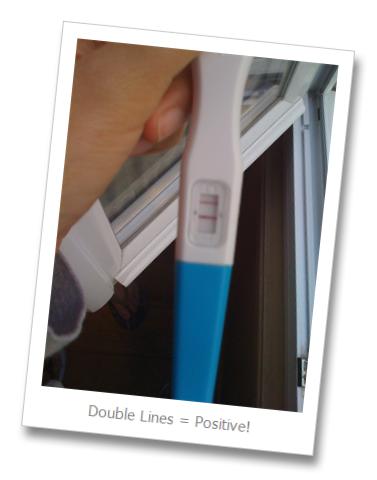 So now, I am on this journey…and while it is not easy (queasy feeling, no appetite, sleepy, lethargic, and moody), I am thankful for the experience. It's amazing how my nose gets bigger everyday…I actually thought it will look the same until the day I die!
And surprise, surprise…I am actually getting caught up with everybody's excitement on my pregnancy. I spent the whole evening yesterday searching for baby names and have narrowed it down to two:
If it's a boy, we will name him Mathieu Lyle
If it's a girl, we will call her Maggie Lavergne
I guess the countdown begins for Feb 6, 2010! God is truly amazing! :)
Posted: June 27th, 2009 under Random Thoughts.
Comments: 14
Comments
Comment from monette
Time: March 18, 2010, 12:00 am
Hi Dolor!
Of course, I will pray for you and your husband. That's the least I can do. I will send you a private message so we can correspond more about this. I also want to send you something via mail. :)
Comment from monette
Time: March 18, 2010, 12:10 am
Hi Ross!
I will definitely pray for you. I will actually send you a private email because I want to send you something sana via snail mail. :)