On the Rocks: University of Oregon's Premier A Capella Ensemble
For some strange reason, Billy Joel's "For the Longest Time" was swimming in my head the whole weekend. Giving into the temptation, I looked it up  in YouTube and for a lack of a better thing to do, listened to every available version of the said song. Hehe. Boredom at its best. :)
I just want to share my favorite version of For the Longest Time, courtesy of "On the Rocks", an all male a capella ensemble of the University of Oregon. After seeing their performance, I just knew that I will soon fly to Oregon to see them perform live. They're so much fun!!! If you don't believe me, see the picture below: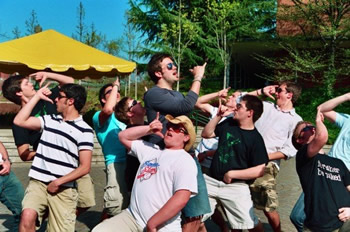 On the Rocks was formed in 1999 by Leonardo Silva, Peter Hollens, and six other University of Oregon students who share a common passion for singing. Nine years later, they now have the following albums which you can order through their website:
On the Rocks – 2002
Backgammon Sessions – 2003
Full Coverage – 2005
The Green Room – 2008
And finally, here is my super favorite a capella version of "For the Longest Time". I especially like it towards the end. It's a great surprise. Just sharing the fun…hope you'll enjoy it!
Posted: September 28th, 2008 under Music.
Comments: none